Garden tools for your outdoor environment
Taking care of your garden means much more than just keeping it tidy. Learn how, with some knowledge and the right set of garden power tools, achieving a perfect outdoor environment is easier than you thought.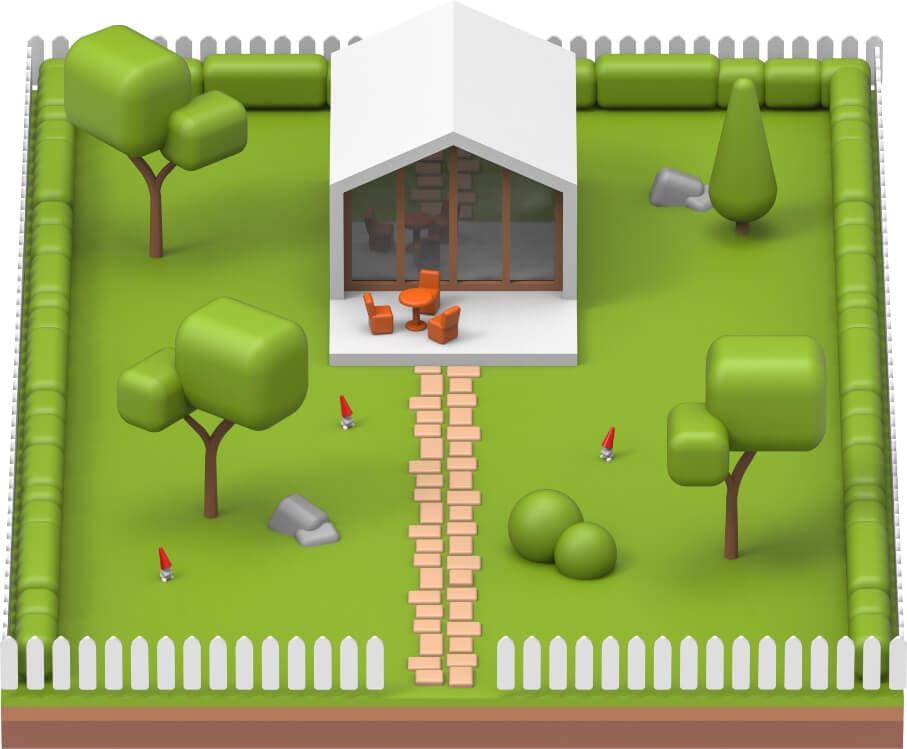 Grass care
There's much more to grass care than just keeping it short. Here are some tips to improve the health and visual quality of your grass:
Mow your lawn frequently
Edge your borders
Aerate the soil
Feed and water your turf
Keep weeds under control
Trees and hedges
Trees, hedges and shrubs add texture and attractiveness to your landscaping. Here's what you should do:
Trim hedges to keep them dense
Prune trees and shrubs during the formative years
Remove dead or dying branches
Cut branches that rub together
Prune orchards to encourage fruit development
Cleaning
Features such as patios, furniture and decks make your garden more enjoyable. They require some care as well:
Wash regularly to not let dirt build up
Leaf blowers are unbeatable for quickly sweeping dirt and debris
Blow the fallen leaves from your lawn so as not to deprive the grass of sunlight
How to choose the right power tools for your garden
Gardening tools are either petrol- or electric-powered. Which one is good for you?
Petrol-engine garden tools have been around for ages and people still believes they are more powerful. That's a myth to debunk:
Electric motors deliver monster torque even at low rpm. So when a petrol mower starts to bog down, the electric mower won't.
When speed counts, electric motors can easily spin at 30,000 rpm or higher, while petrol engines rarely exceed 4,000.
Furthermore, electric motors deliver other sound benefits:
Zero emission of air pollutants
Low noise
Start at the push of a button
Lightness and compactness
Low vibration
Savings on fuel and lubricants
No expensive maintenance
If you are ready to electrify your gardening power equipment, you'll face two choices: corded or cordless.
Corded garden tools are cheap, but they are an option only if your garden is small as their range of action is limited by the reach of the power cord.
Cordless gardening equipment provides freedom of movement, but unless you want to deal with a multitude of different batteries and chargers, you'll have to decide which voltage to stick to.
Well, unless you go with PowerShare.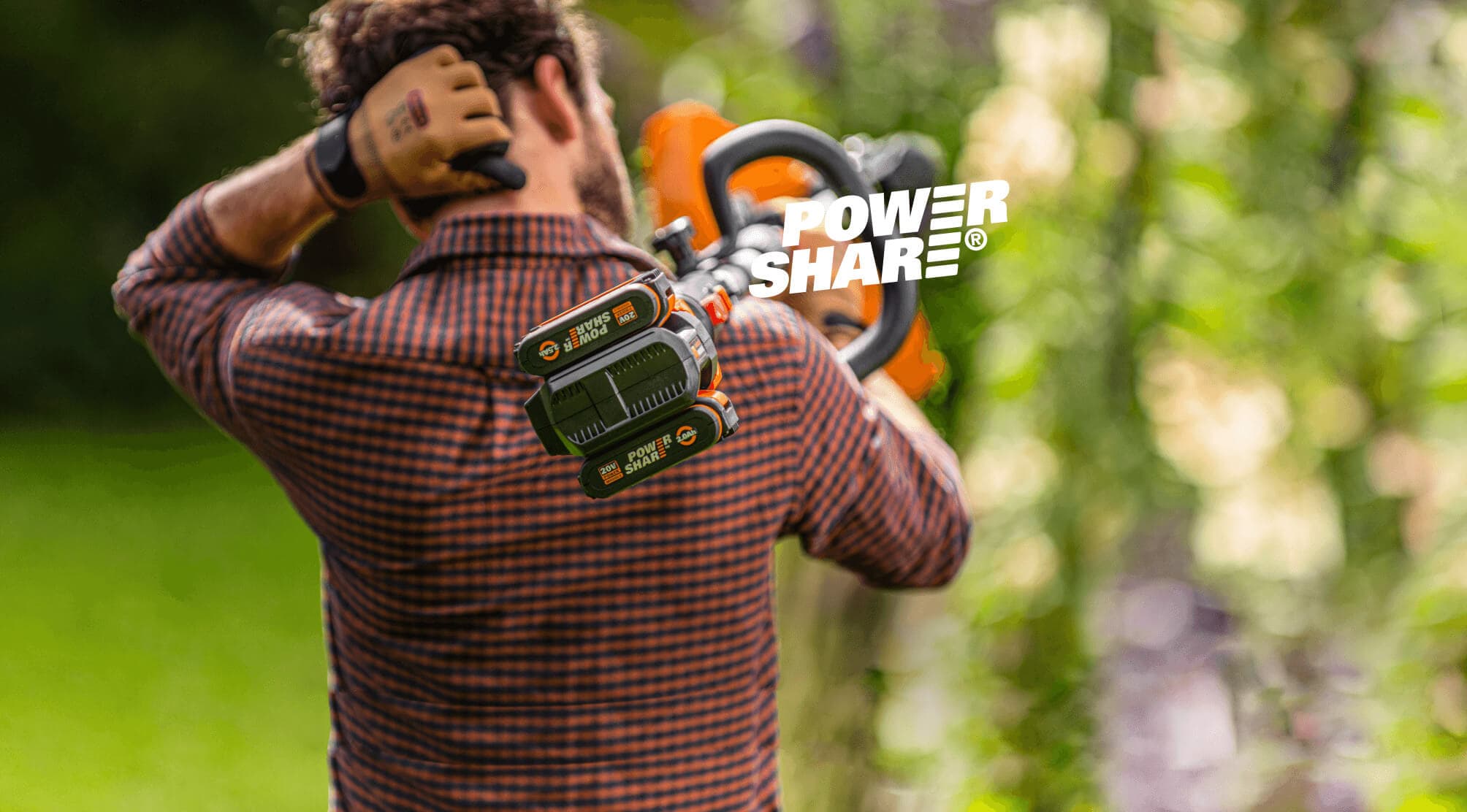 Same battery, expandable power
Stop buying batteries and chargers that fit one voltage only. Enjoy unlimited freedom of choice with Worx PowerShare™, the cordless system that adapts to your needs. As easy as combining bricks in construction toys.
One battery for all your 20V tools.
For your everyday applications, enjoy the convenience of the compact and lightweight Worx 20V tools.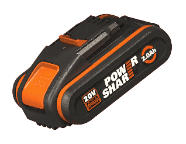 Two batteries for all your 40V tools.
When the going gets tough, the extra power of Worx 40V garden tools is what you need.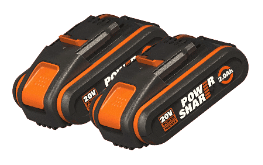 Four batteries for all your 80V tools.
When ultimate power and runtime are needed, quadruple the battery to get 80V.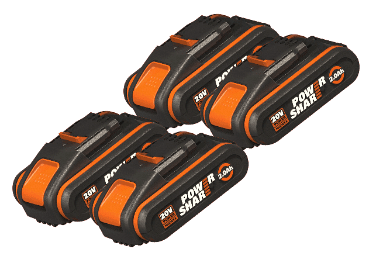 Mowing is the most important of lawn care practices
Most of us mow the lawn just to keep it tidy.
Doing it right will do a lot for your grass.
Mow frequently: avoid stressing the grass, promote turf density and prevent weeds proliferation.
Keep your blade sharp: dull blades tear the end of grass blades making your grass tips brown and vulnerable to diseases.
Mulch instead of bagging: when short grass clippings are left on the lawn, they decompose and reenter the soil.
Randomize your pattern: follow a different direction each time you mow to promote even, upright growth.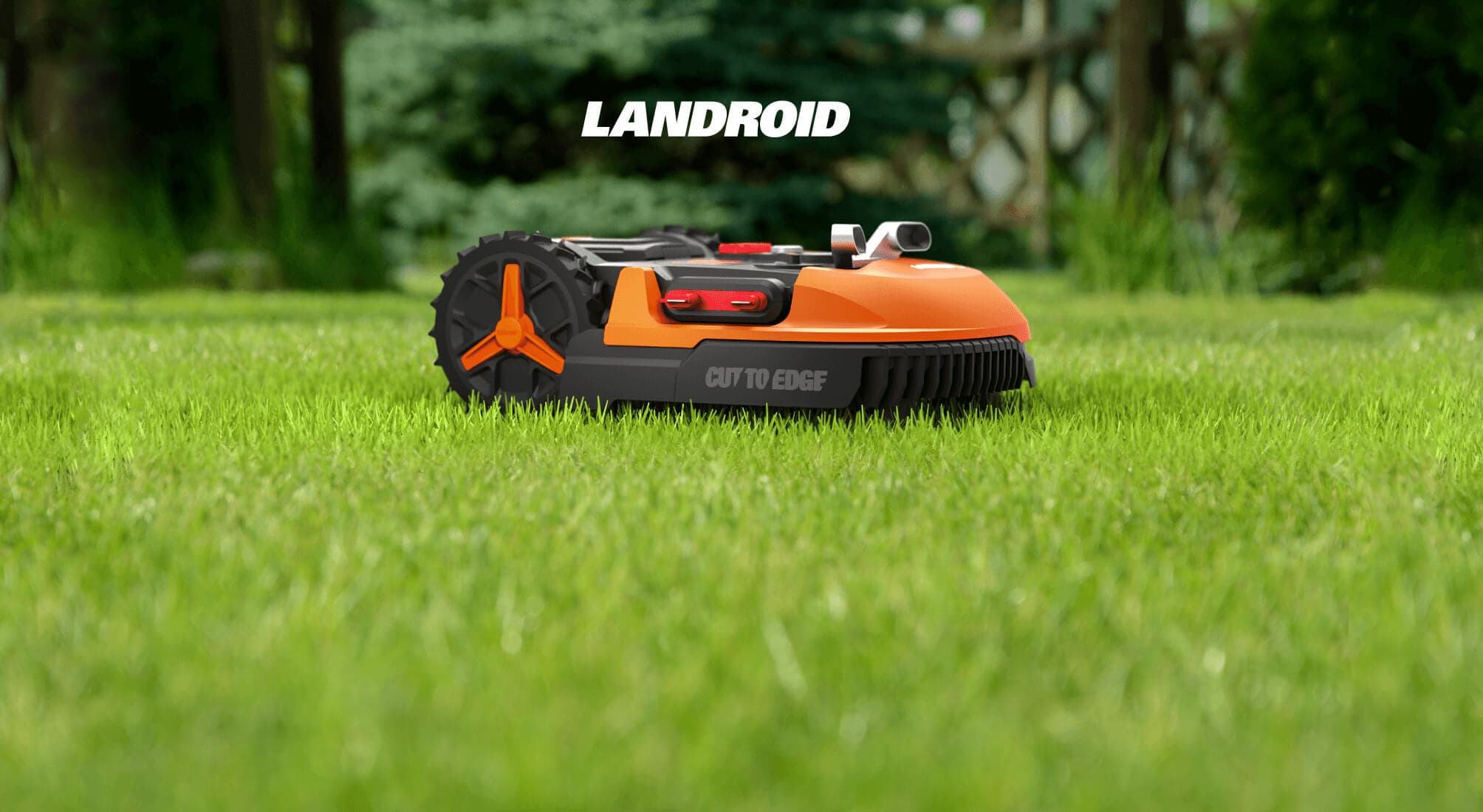 Not only Worx Landroid robotic lawn mowers manicure the lawn autonomously, day in and day out. They also dramatically improve the health and visual appearance of your grass.
The best robotic lawn mower system
Look no further
For the last 10 years, Worx Landroid has been setting the industry agenda with an unrivaled number of industry-firsts and unique technologies. This is what makes Landroid efficient and agile. It's future-proof and fully customizable, it does the edge and adapts to rough terrain, while being empowered by the Noesis cloud computing network.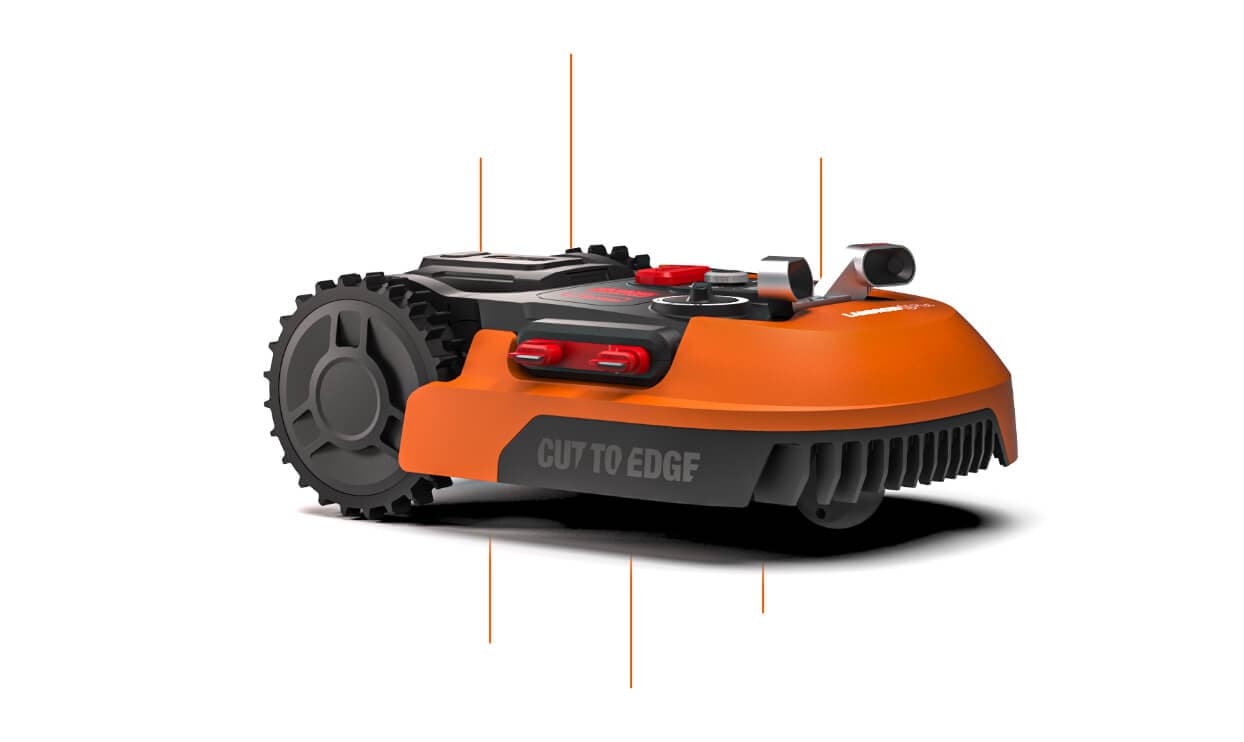 Robotic lawn mowers
Landroid S300

WR130E

Landroid M500

WR141E

Landroid M700

WR142E

Landroid L1000

WR147E.1

Landroid L2000

WR155E

AIA intelligent navigation

Configurable

Automatic firmware updates

Cut-to-Edge

Noesis™ cloud computing

Multi-zone up to 4 areas

PowerShare battery
2 Ah

4 Ah
5 Ah
Floating cutting disc

Interface/Display
Keypad/LED
Keypad/LED
Keypad/LED
Dial/LCD
Dial/LCD
Wi-Fi

Bluetooth

Max slope
35%
35%
35%
35%
35%
Front wheels
1
1
1
2
2
Cutting height / width
20-50 mm / 18 cm
30-60 mm / 18 cm
30-60 mm / 18 cm
30-60 mm / 18 cm
30-60 mm / 22 cm
Learn more
Learn more
Learn more
Learn more
Learn more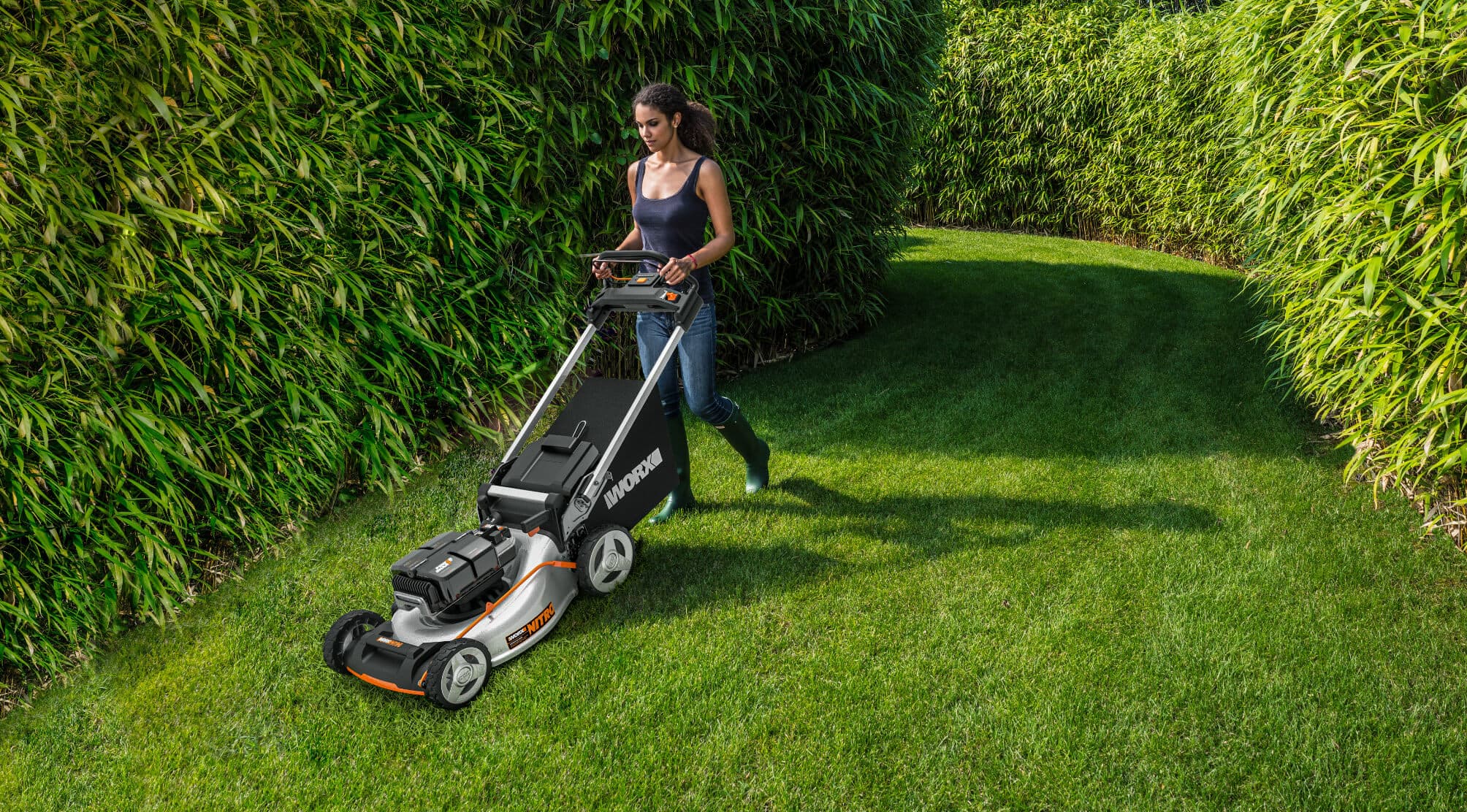 Push lawn mowers
The power of petrol, without the hassles
Can the world robot mower specialist also design great push mowers? We took the challenge seriously to deliver on your expectations. From the monster power of our 80V self-propelled flagship to our smallest model, browse the range to find your perfect lawn mower.
Our Nitro flagship rotary lawn mower
Featuring IntelliCut
Four PowerShare batteries deliver 80V and up to 320Wh for extreme power and long runtime. IntelliCut™ technology instantly delivers the right amount of cutting torque the blade needs.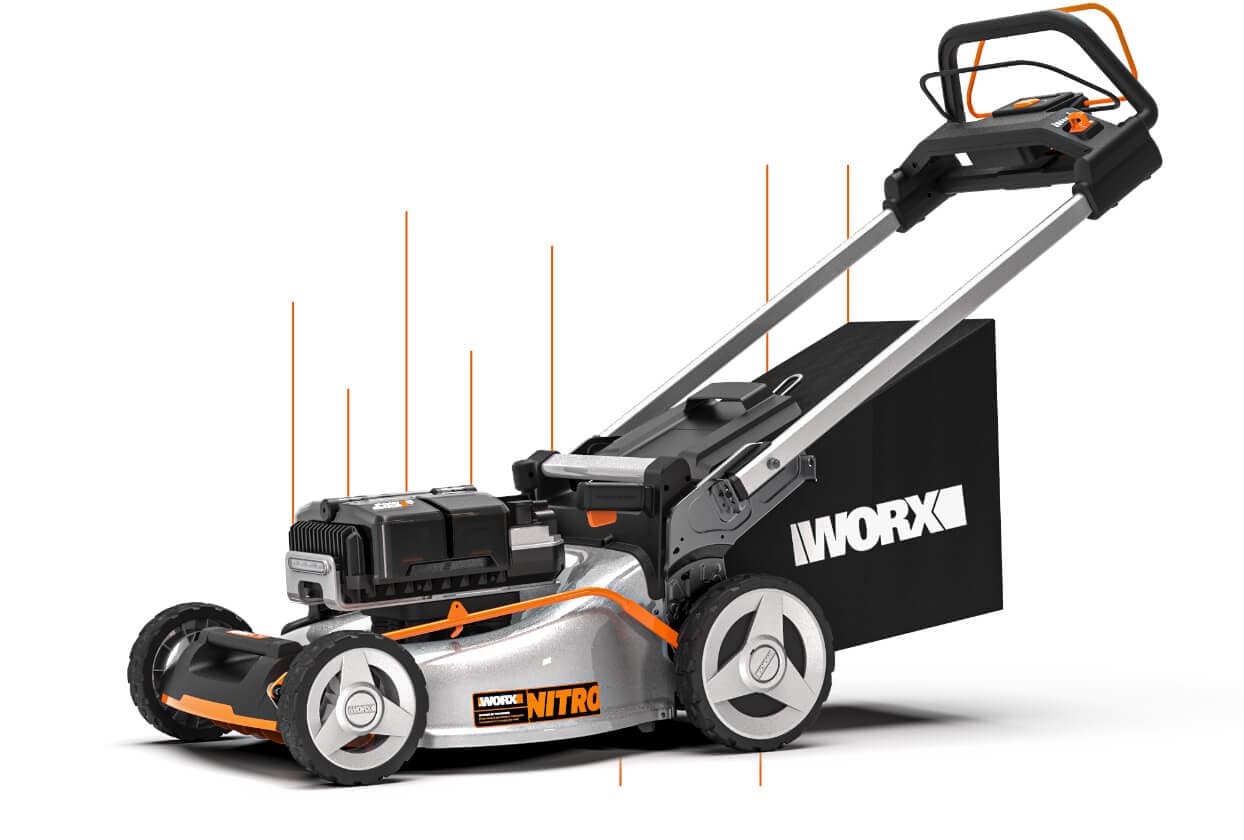 Push lawn mowers
Nitro

WG761E

Nitro

WG749E

WG743E

WG779E

WG730E

Drive system
Self-propelled
Self-propelled
Push
Push
Push
Voltage
80V
40V
40V
40V
20V
Battery capacity
4.0 Ah
4.0 Ah
4.0 Ah
2 x 2.5Ah
4.0 Ah
Motor
Brushless
Brushless
Brush
Brush
Brushless
Coverage with one charge
1000 m2
500 m2
500 m2
280 m2
200 m2
Cutting width
51 cm
46 cm
40 cm
34 cm
30 cm
Cutting height
20-80 mm
20-80 mm
20-80 mm
20-70 mm
30-70 mm
Clippings management
Collection/mulching/side discharge
Collection/mulching
Collection/mulching
Collection
Collection
Handle
Fully collapsible
Fully collapsible
Fully collapsible
Fully collapsible
Fully collapsible
Cutting deck
Metal
Plastic
Plastic
Plastic
Plastic
Bag capacity
70L
55L
45L
30L
30L
Learn more
Learn more
Learn more
Learn more
Learn more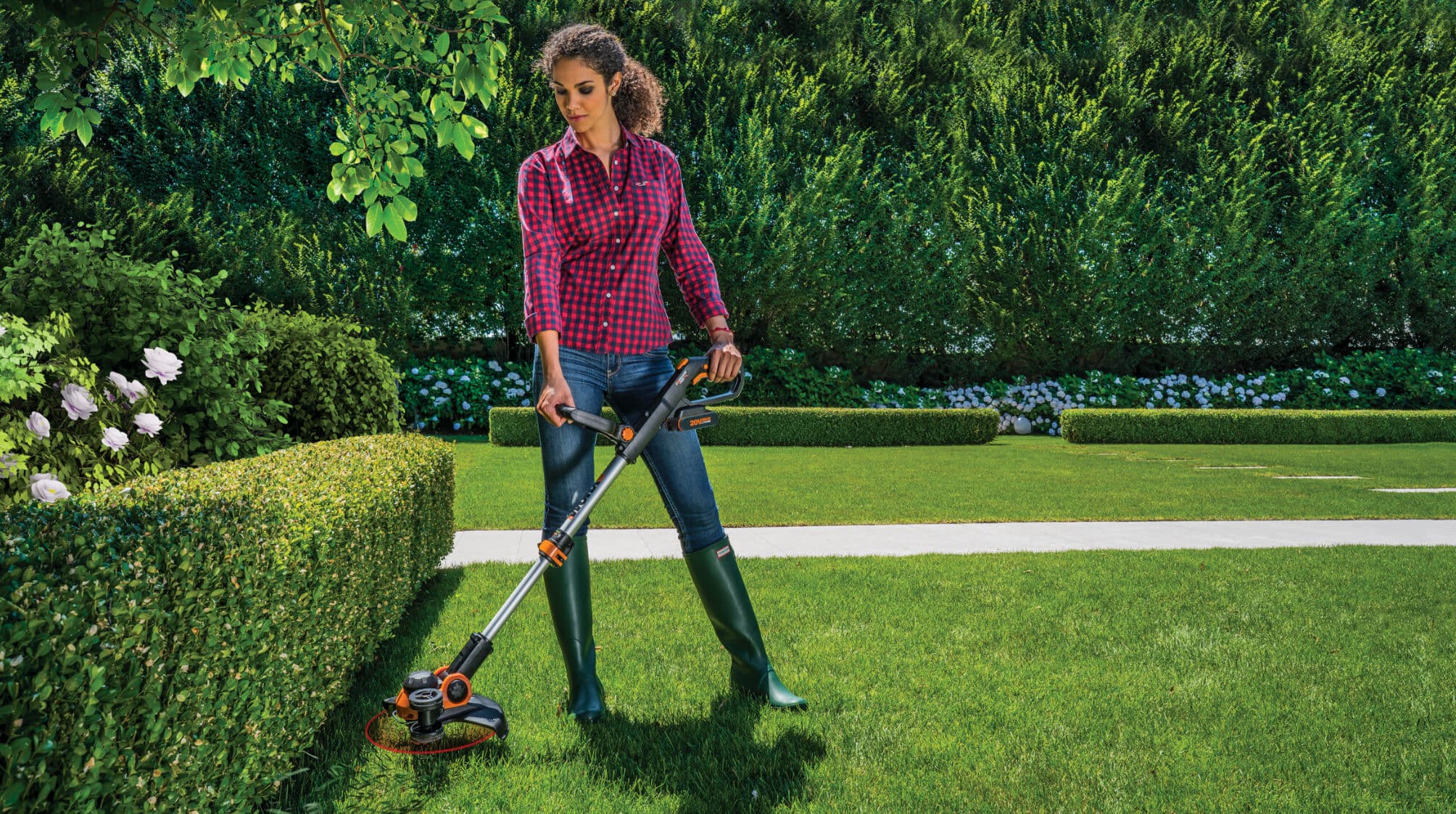 String trimmers
Use a string trimmer to create a satisfying finish
Grass trimming is the finishing touch to a detailed, meticulously maintained lawn. Use a string trimmer to maintain those areas where lawn mowers cannot do the job — around trees, in between plants and in tight corners. To define edges, turn the trimmer so that the string spins vertical.
Third revision of a classic
Now with Command Feed™ technology
Since its first release, Worx GT has become the industry benchmark for cordless string trimmers. Still the ergonomic champion, the new Worx GT3 features Command Feed to extend fresh line at the touch of a button.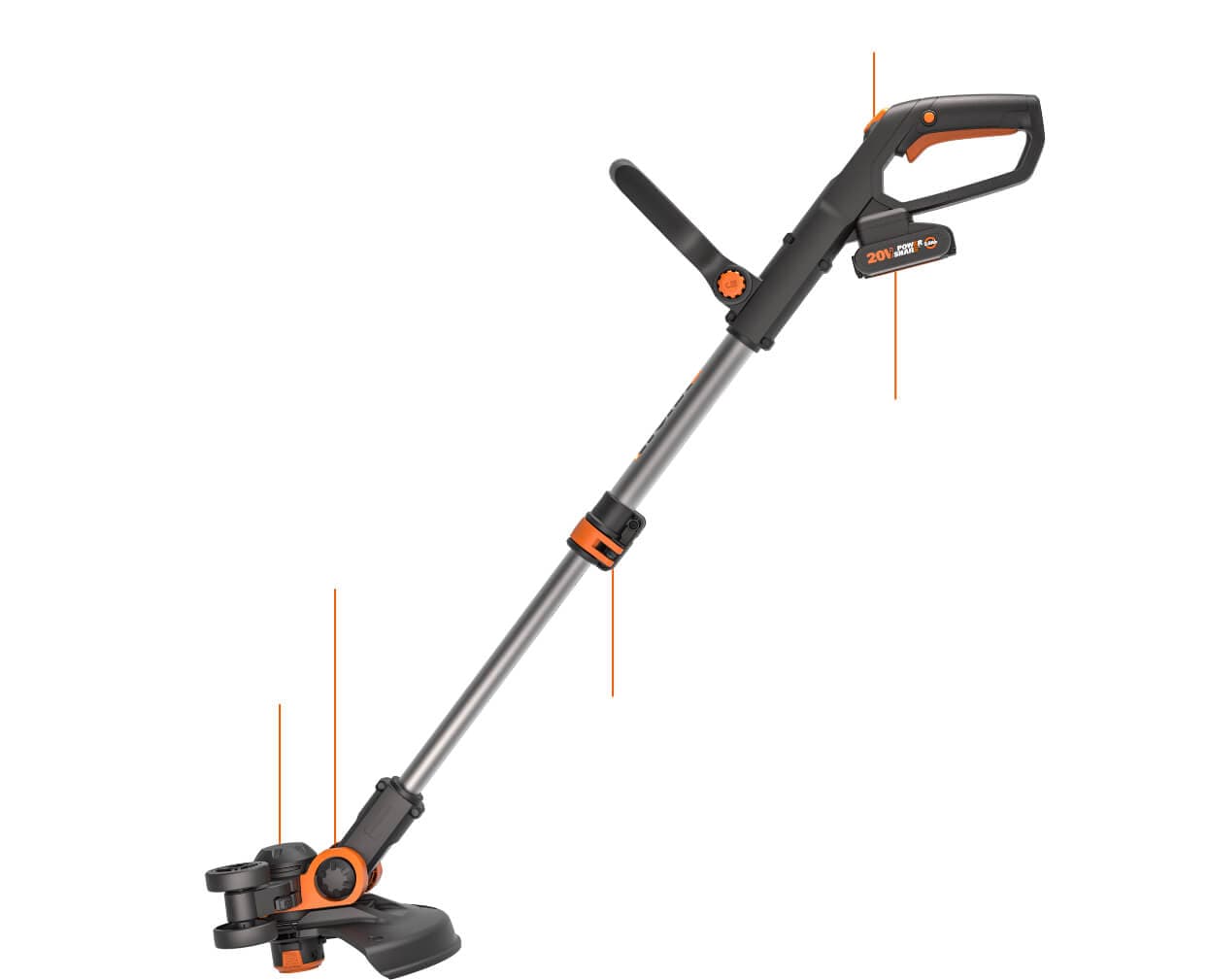 String trimmers
Nitro

WG186E.1

WG184E

WG183E

GT3.0

WG163E.2

WG157E

WG119E

Voltage
40V
40V
40V
20V
20V
220-240V ∼ 50 / 60Hz
Cutting width
38 cm
33 cm
33 cm
30 cm
25 cm
30 cm
Line diameter
2.4 mm (dual)
2 mm
1.65mm (dual)
1.65 mm
1.65 mm
1.65 mm
Motor
Brushless
Brush
Brush
Brush
Brush
Brush
Line feed
Bump
Command Feed™
AutoFeed™
Command Feed™
AutoFeed™
AutoFeed™
Cutting head
Fixed
Pivoting
Fixed
Pivoting
Fixed
Pivoting
In-line wheeled edging
No
Yes
No
Yes
No
No
Learn more
Learn more
Learn more
Learn more
Learn more
Learn more
The right tools for trees, shrubs and hedges
Now that you got your lawn covered, it's time to care for all that grows above ground level
There are several different hand or powered tools for shaping plants and trees, but what you really need are these:
A homeowners' chainsaw is useful for pruning lower tree branches, for after storm clean up and for chopping firewood.
A pole saw allows for extended reach to prune higher branches.
As it comes to shaping hedges and shrubs, a hedge trimmer is what you need.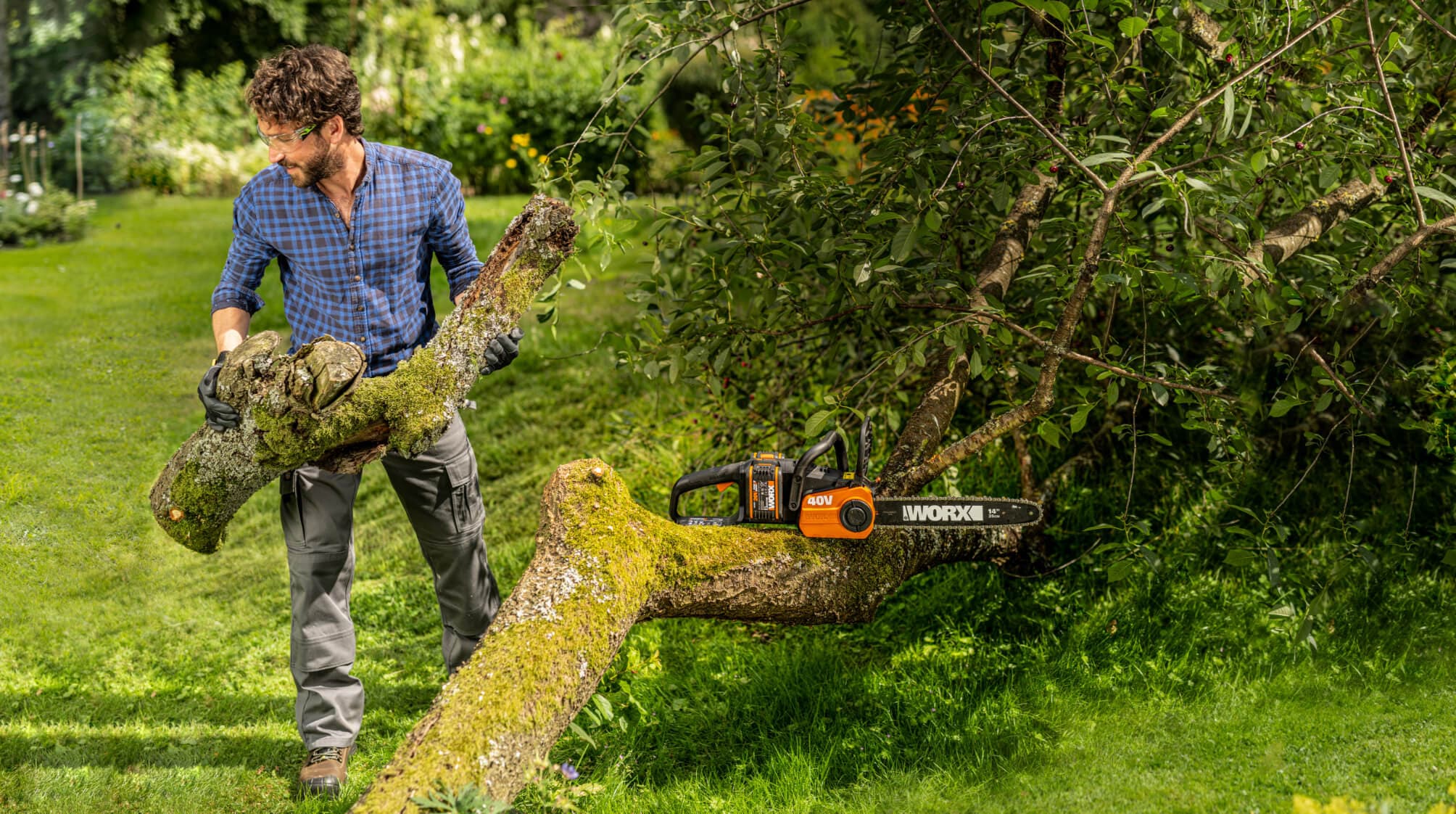 Chainsaws and pole saws
Click in the battery, and you're off and cutting
Once exclusive to lumberjacks and farmers, with the availability of cordless models, chainsaws have become a staple in the shed of homeowners. The best battery-powered chainsaws and pole saws offer a high power-to-weight ratio together with an easy-handling form factor.
High chain speed for fast, clean cuts
With auto-tensioning technology
The powerful brushless motor of the Worx Nitro 40V chainsaw drives the chain at 18m/s speed to cut hardwood with ease. The patented auto-tensioning automatically compensates chain stretch during operation without the need for manual tightening.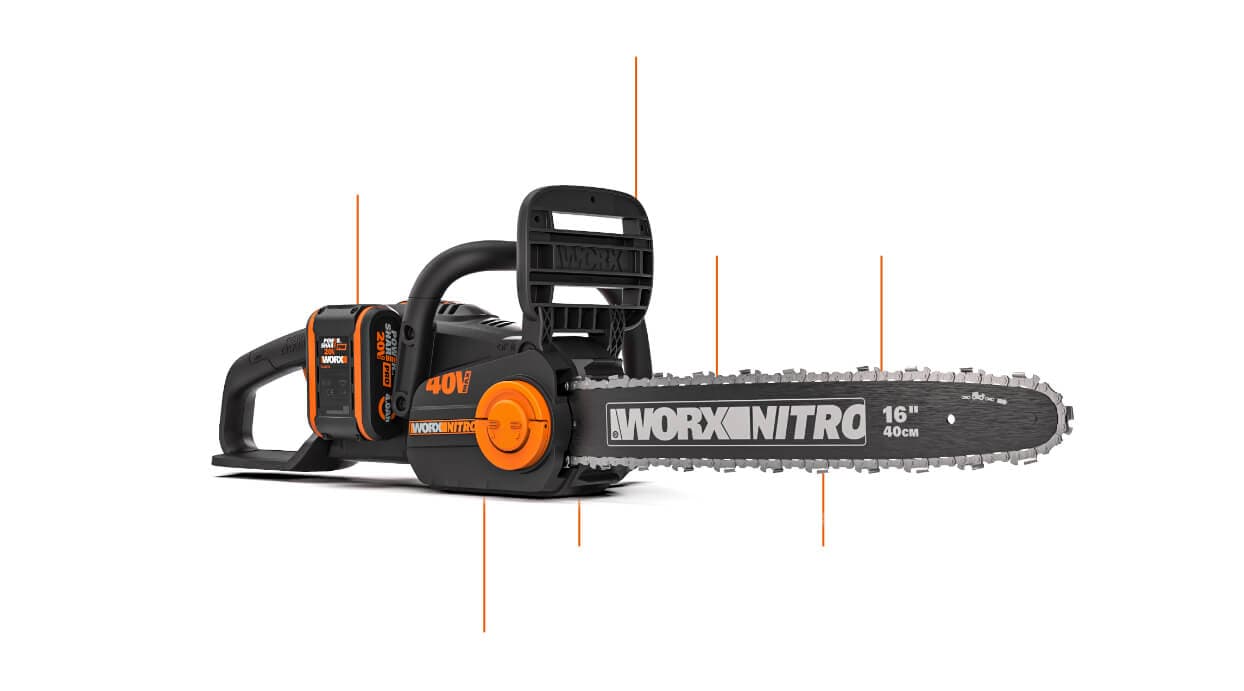 Chainsaws and pole saws
Nitro

WG385E

WG381E

WG322E.1

WG303E

WG305E

Jawsaw

WG329E.9

WG324E

WG894E.9

WG349E

Voltage
40V
40V
20V
220 - 240V ∼ 50 / 60 Hz
220 - 240V ∼ 50 / 60 Hz
20V
20V
20V
20V
Motor
Brushless
Brush
Brush
Brush
Brush
Brush
Brush
Brush
Brush
Bar length
40 cm
30 cm
25 cm
40 cm
25 cm
15 cm
12 cm
wood 60 mm / steel 10 mm
20 cm
Chain speed
18 m/s
6.3 m/s
3.8 m/s
12 m/s
8.5 m/s
2.5 m/s
6.7 m/s
no load speed 2200 / min
5 m/s
Chain tensioning
Auto
Auto
Auto
Auto
Auto
Manual
Manual
No tension need
Auto
Lubrication
Auto
Auto
Auto
Auto
Manual
Auto
Manual
No need
Auto
Learn more
Learn more
Learn more
Learn more
Learn more
Learn more
Learn more
Learn more
Learn more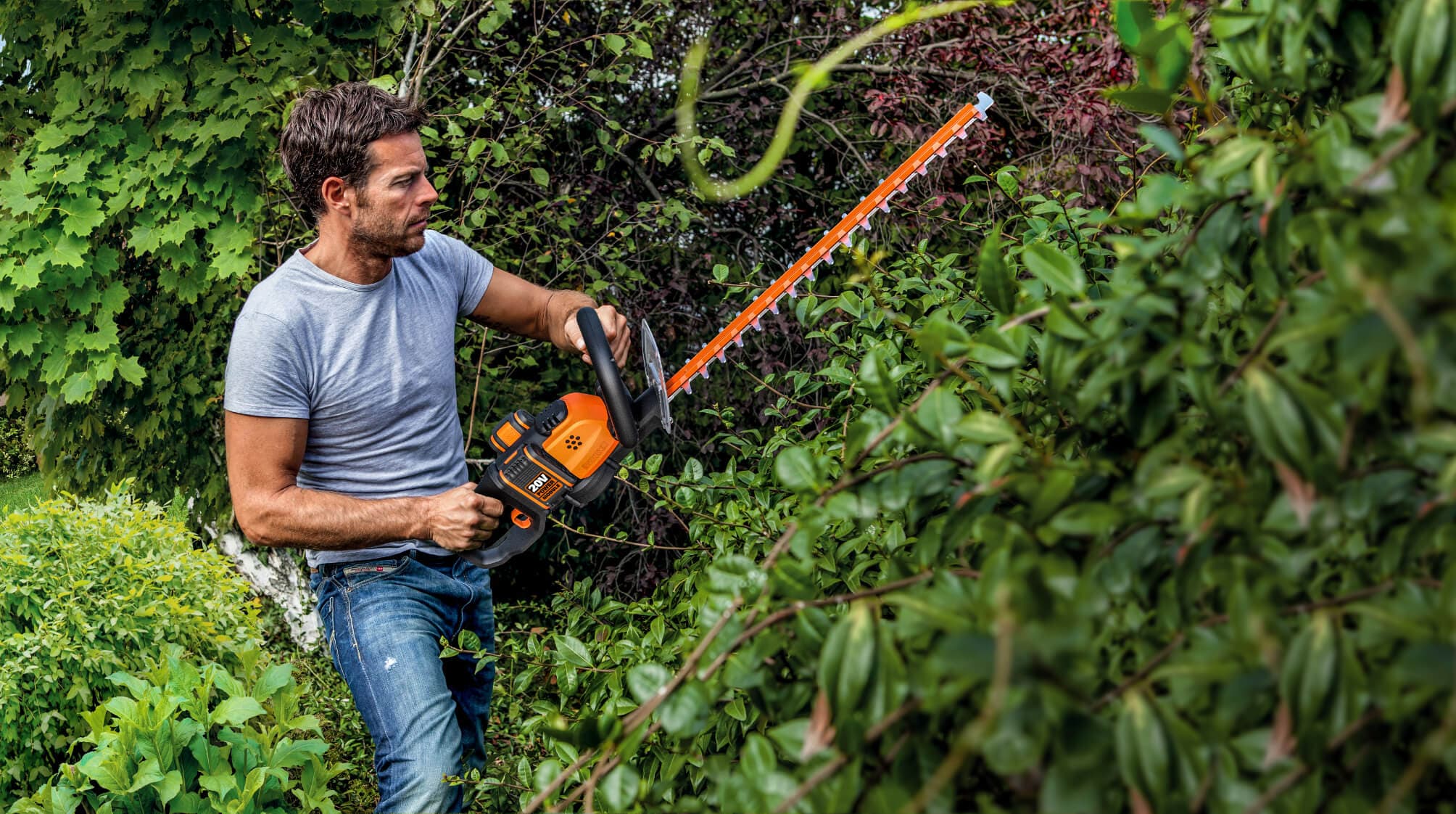 Hedge trimmers and shear shrubbers
Keep you hedge in shape, as well as your back
New hedges should be frequently trimmed and shaped for their first couple of years after planting. Once grown up, they still require maintenance to grow dense and healthy. Hand-held shears are good enough for smaller shrubs, but for larger hedges you'll have to go with a powered hedge trimmer.
Lightweight yet powerful
Dual-action blade for sharp, clean cuts
Lightness is the most important feature to look for in a tool that is used overhead most of the time. Weighing as little as 2 kilos, the Worx WG261E cordless hedge trimmer still gives you 45 cm cutting capacity and packs enough of a punch to slice 16 mm thick twigs with ease.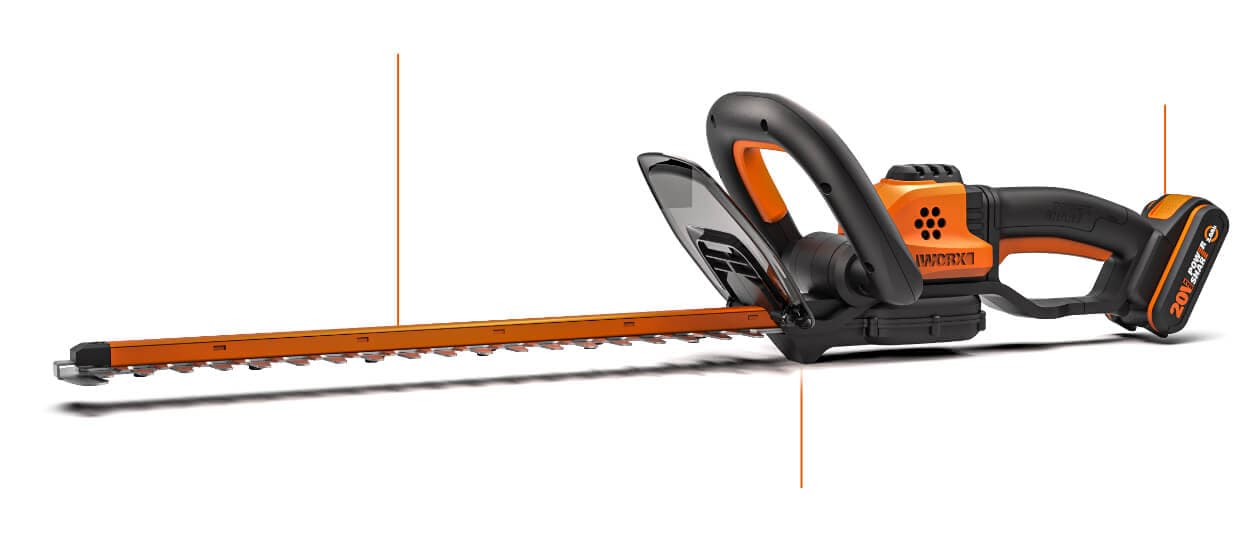 Hedge trimmers and shear shrubbers
WG284E

WG260E.5

WG261E

WG252E

Zen

WG801E.5

Voltage
40V
20V
20V
20V
20V
Motor
Brush
Brush
Brush
Brush
Brush
Cutting length
60 cm
61 cm
45 cm
45 cm
20 cm, 12 cm
Max. cutting diameter
27 mm
20 mm
16 mm
16 mm
8 mm
Rear handle
Rotating
Fixed
Fixed
Rotating
Fixed
Dual action blades
Yes
Yes
Yes
Yes
Yes
Learn more
Learn more
Learn more
Learn more
Learn more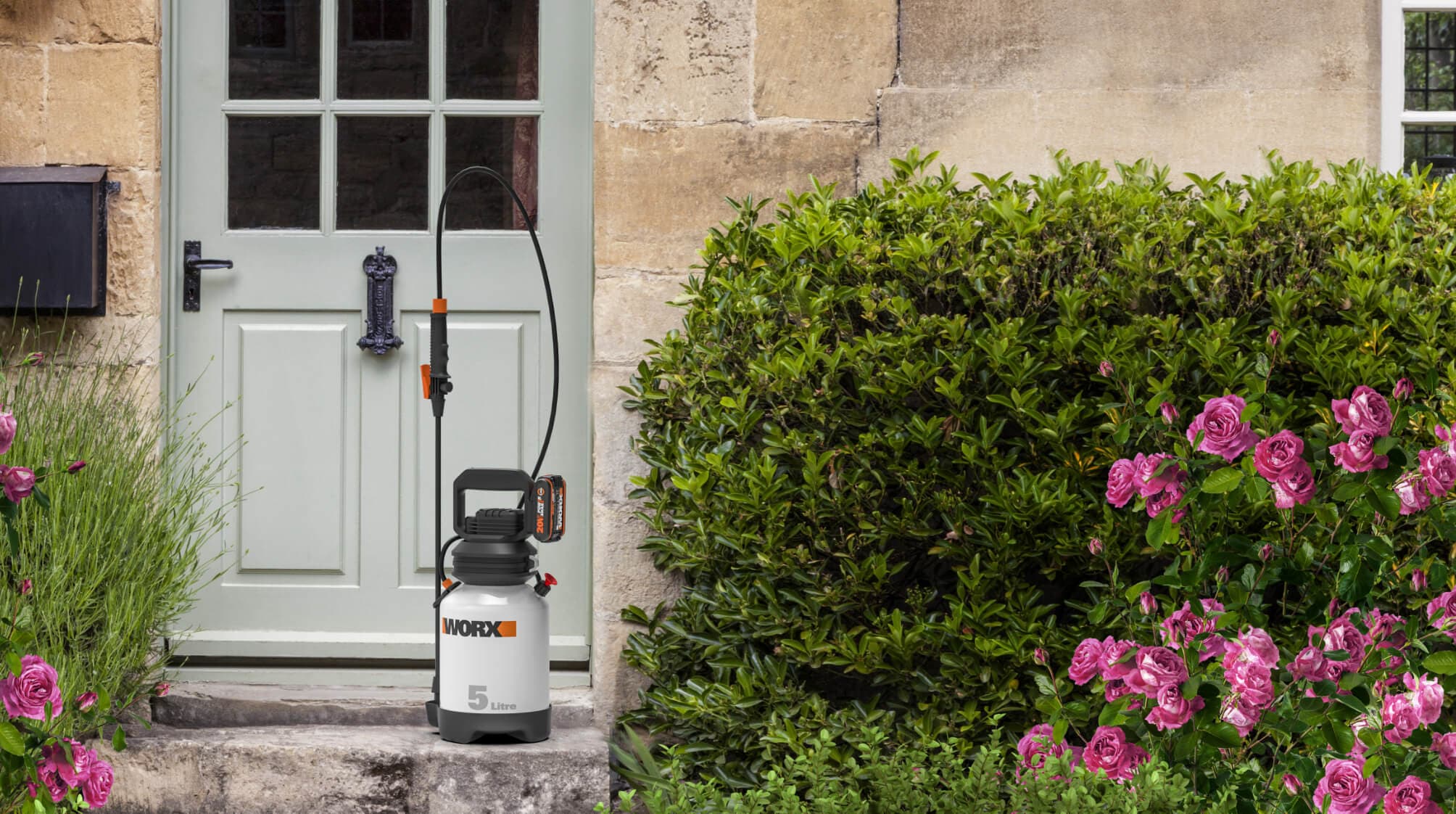 Power garden sprayer
Your ally for plant care
Sooner or later, most plants will face pests and diseases, which can pose serious threats and can even be fatal to them. No panic. Identifying the kind of disease is the first step. Then you need the right tool to treat the problem. A garden pump will come in handy to spray the treatment and is also great to apply nutrition to the foliage.
The garden sprayer, reinvented
Contamination avoided
Conventional battery garden sprayers draw the chemical from the tank. Which leads to two major issues: residuals can damage the pump and, most importantly, contamination can happen. The Worx sprayer compress air instead, as you would with manual garden sprayers, keeping the pump away from chemicals.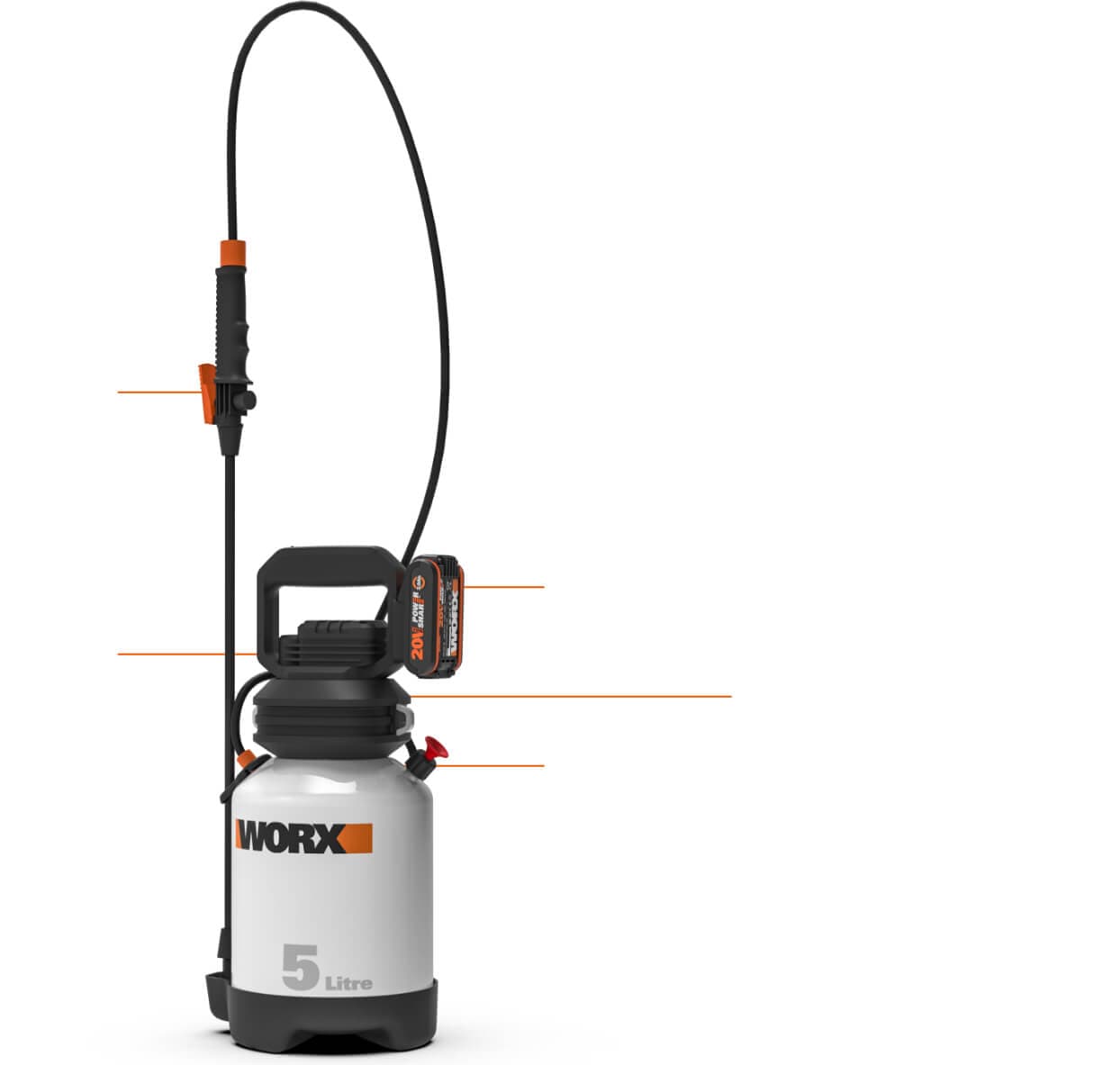 The tools you need to keep your garden clean
Not only a matter of tidiness, leaf removal can save your lawn.
A thick layer of leaves will deprive grass of sunlight and oxygen, eventually killing it. A blower will remove fallen leaves in autumn, and is also the best tool to keep your outdoor space free of dirt and debris all year round. A power washer is indispensable to keep your garden furniture and features tidy. A power brush is the tool of choice as it comes to cleaning your patio, walkway and other hard surfaces.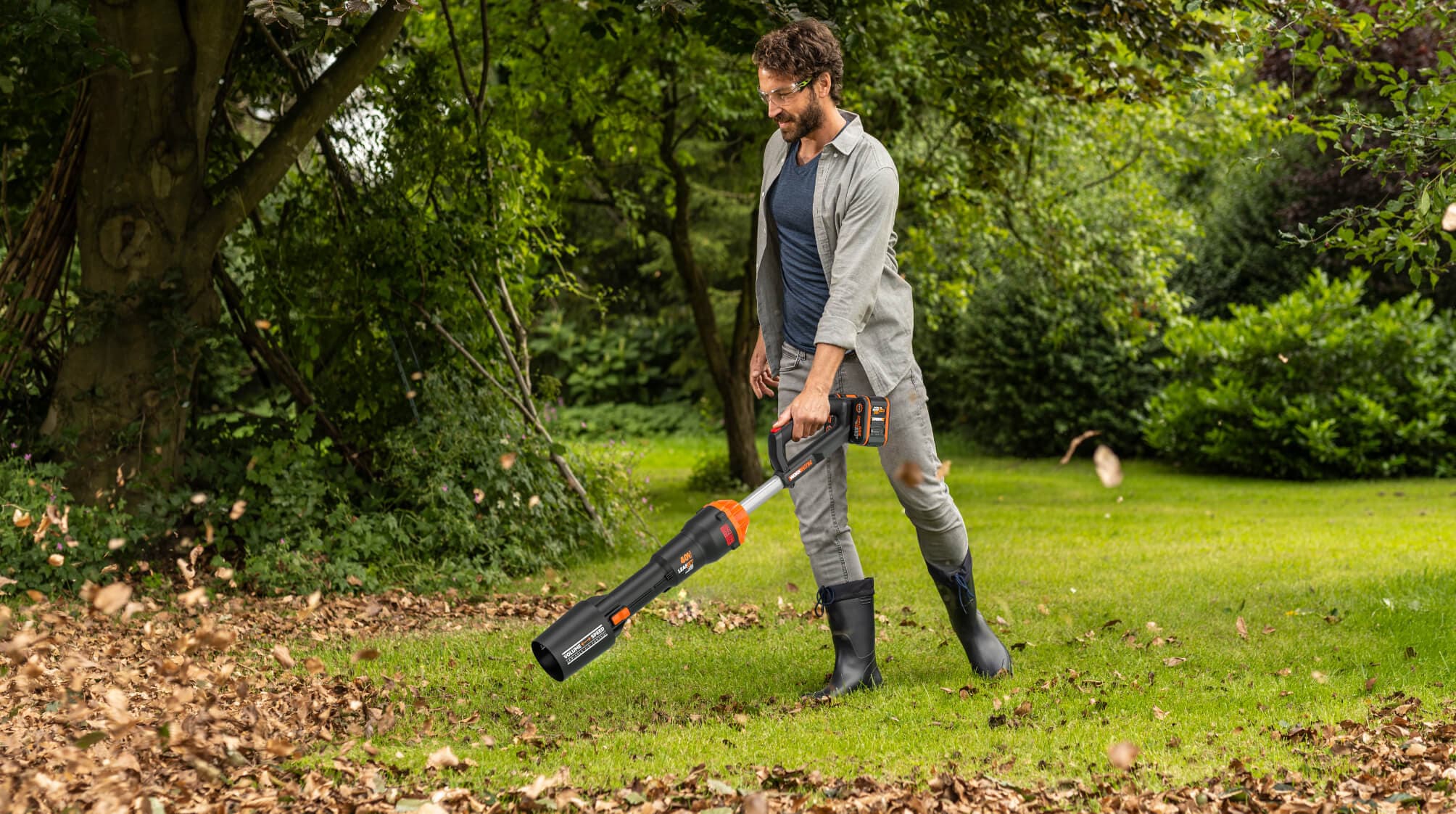 Leaf blowers and vacuums
How to choose the right tool
To remove a large quantity of dry leaves, a blower capable of moving a high volume of air is best. To get rid of wet, sticky leaves, you'd rather need a tool that produces a high velocity airstream. What if there was a blower that does it all? As it happens, now there is.
The most powerful leaf blower out there
Lightweight and compact as well
The Worx WG585E 40V LeafJet blower is able to move 1053 cubic meters per hour of air at 266 kilometres per hour speed. No other blower in the market can do the same, regardless of price. This turns into removing more leaves in way less time, and unglue the stickiest debris from the ground.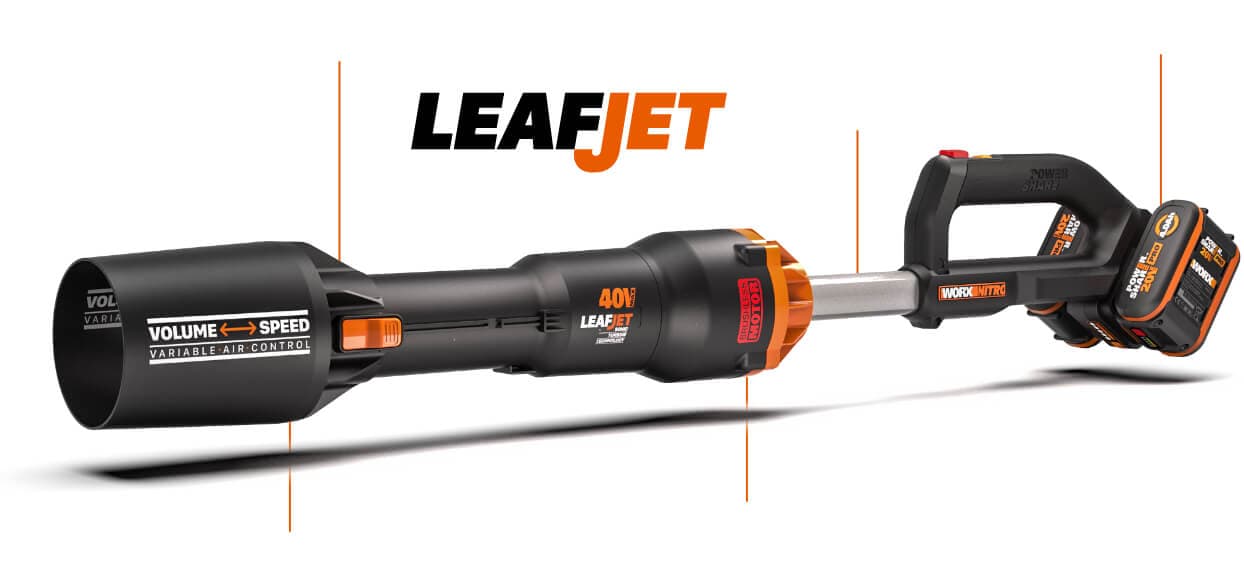 Cordless leaf blowers/vacuums
Nitro LeafJet

WG585E

Nitro LeafJet

WG543E

WG583E

Trivac

WG505E

Voltage
40V
20V
40V
220 - 240V ∼ 50 / 60 Hz
Motor
Brushless
Brushless
Brushless
Brush
Max. air speed
266 km/h
209 km/h
335 km/h
335 km/h
Max. air volume
1053 m3/h
696 m3/h
575 m3/h
600 m3/h
Airflow technology
LeafJet™ + AirAmplifier
LeafJet™ + AirAmplifier
Speed/volume control
Yes
Yes
No
No
Mulch ratio
12:1
16:1
Learn more
Learn more
Learn more
Learn more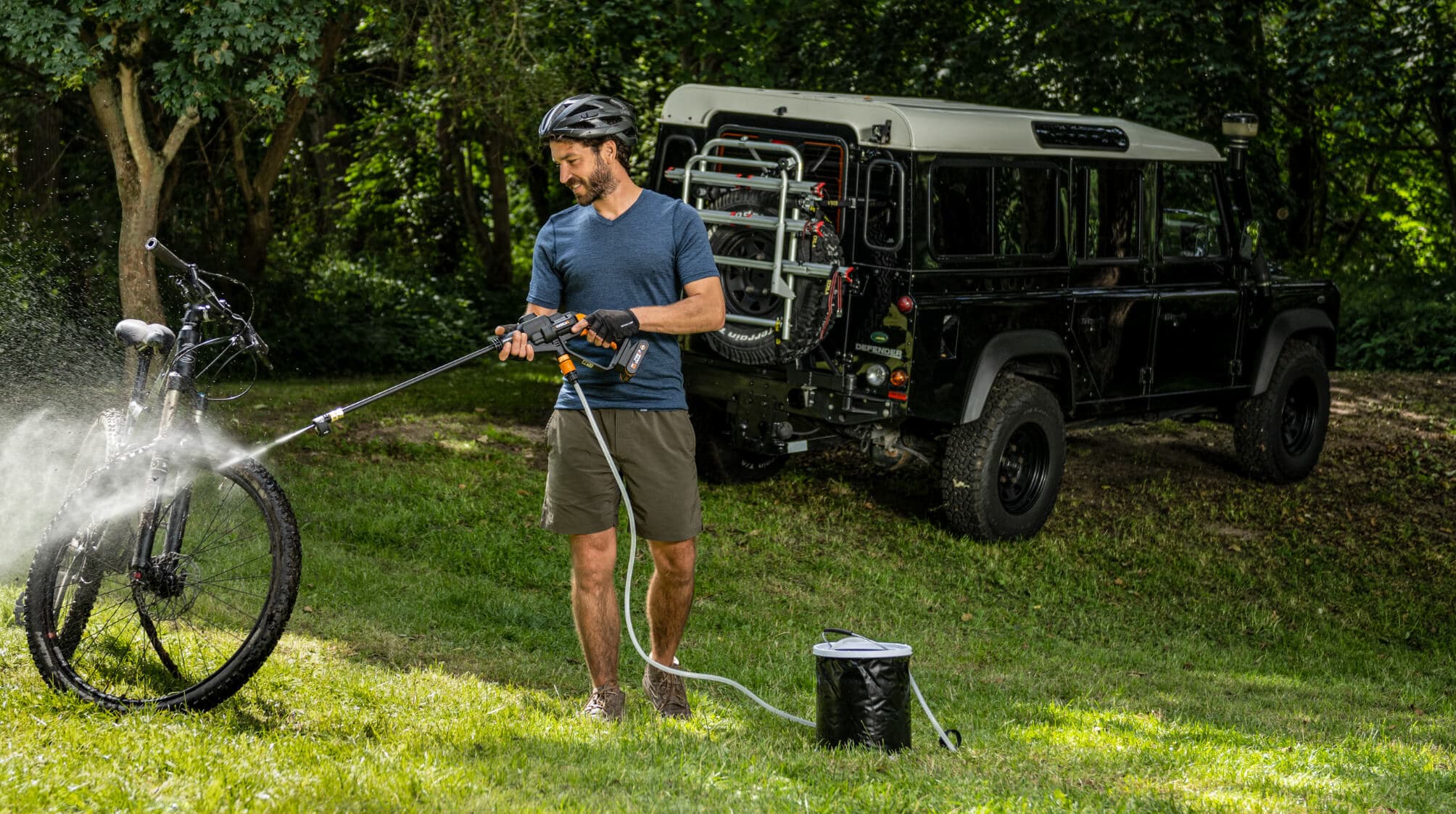 Pressure washers
Choose one that you'll actually use
High pressure washers are certainly powerful and can remove stubborn dirt, moss and grime from your deck and garden furniture. But they are heavy, cumbersome, they need to be plugged to the mains and connected to a tap. Let's be honest, most people end up using it two or three times a year.
The mobile pressure washer
Rethink what you can clean
Being portable, the Worx HydroShot is not as powerful as traditional, bulky high pressure washers. But what it lacks in terms of power it more than makes up with its convenience. Just plug the battery, fill a bucket with water, and wash dirt away whenever you want, before it builds up. Not only in your garden, but also on the go.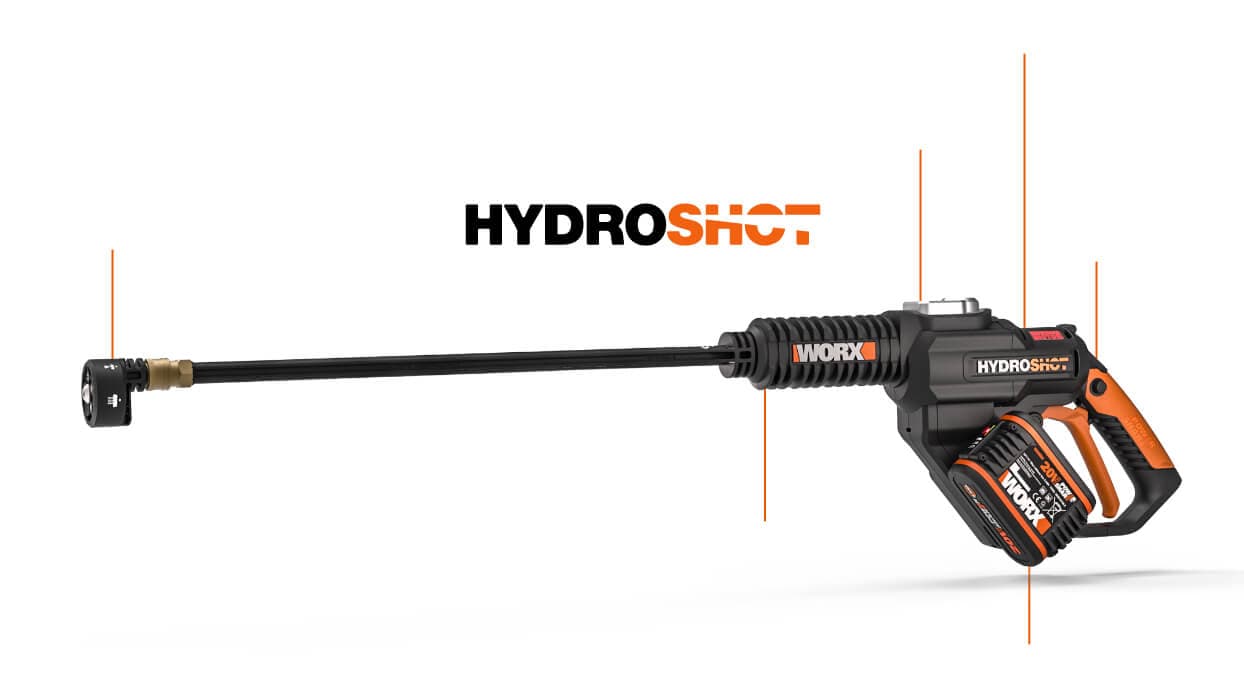 No cord
HydroShot runs on batteries, miles away from your closest AC socket.
No reel
Forget those long water hoses that are never long enough.
No base
With HydroShot you don't need to drag any bulky, heavy base around.
No tap
HydroShot draws water from any source: buckets, ponds, bottles…
Hydroshot
Hydroshot

WG630E

Hydroshot

WG620E

Voltage
20V
20V
Motor
Brushless
Brush
Max pressure
25
24
Flow rate
160-210 L/h
120 L/h
Speed
2
1
Learn more
Learn more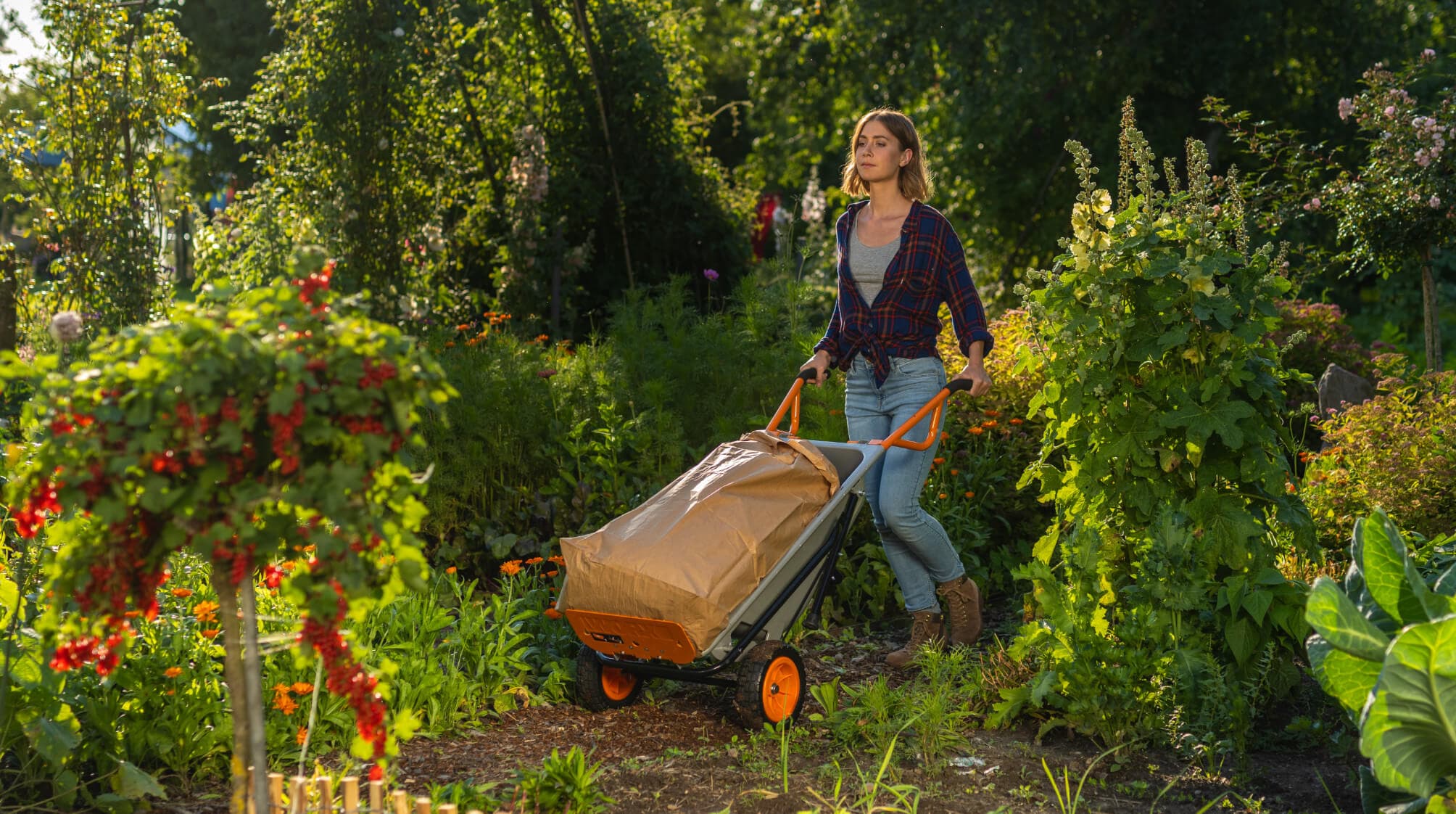 Moving loads around
A good wheelbarrow will save your back
Whether it is carrying soil bags, transporting freshly cut wooden logs or moving plants to their beds, a good wheelbarrow is your best garden friend. Wheelbarrows have been around unchanged for ages, so you might believe they are all the same. Think again.
Wheelbarrow, reinvented
Rethink what you can move around
Worx Aerocart's TurboLift design makes a 100 kg wheelbarrow load feel like 9 kilos. Not only, the cart adapts to eight different uses including dolly, rock/plant mower, trailer tote, heavy vase transporter, bag holder and counting.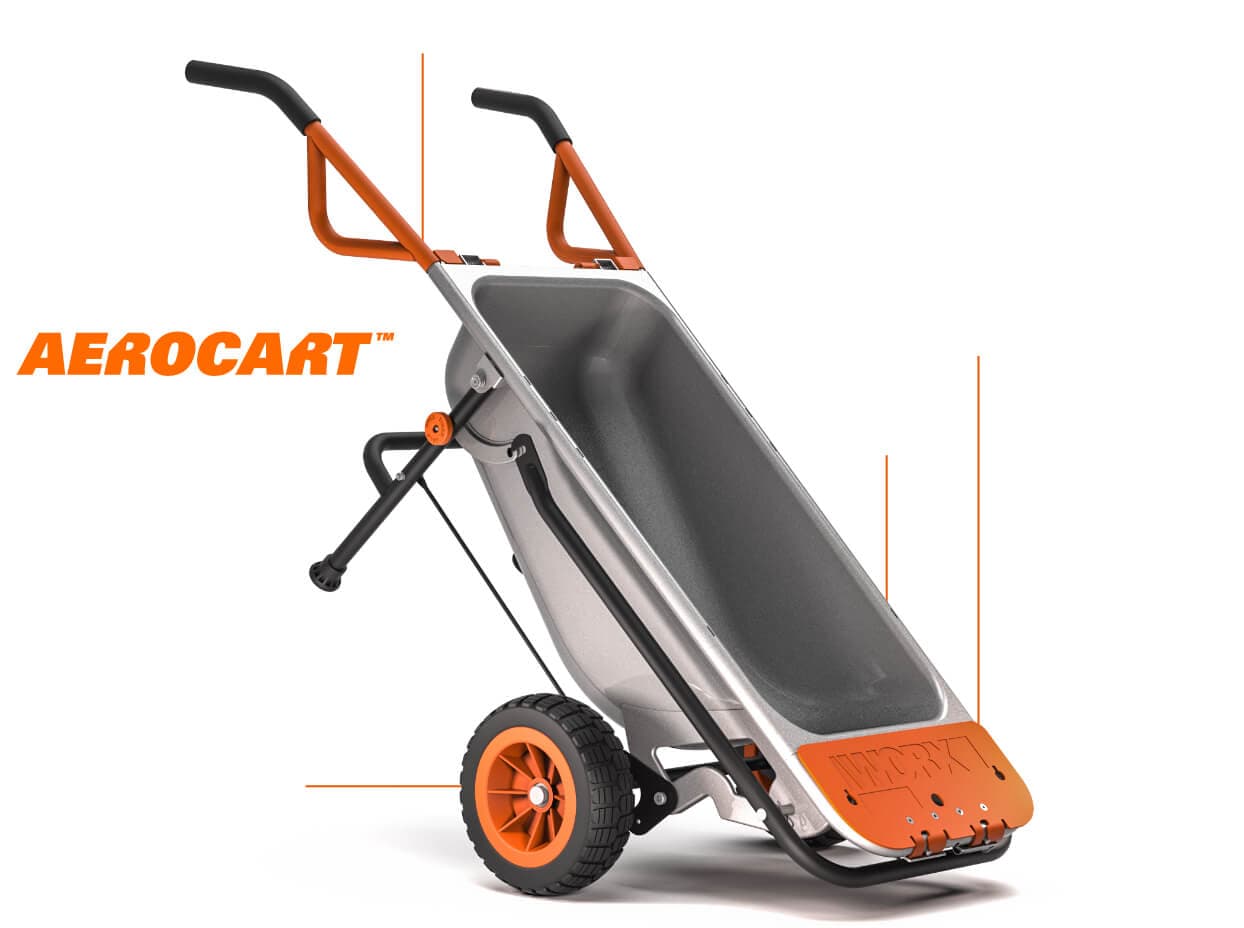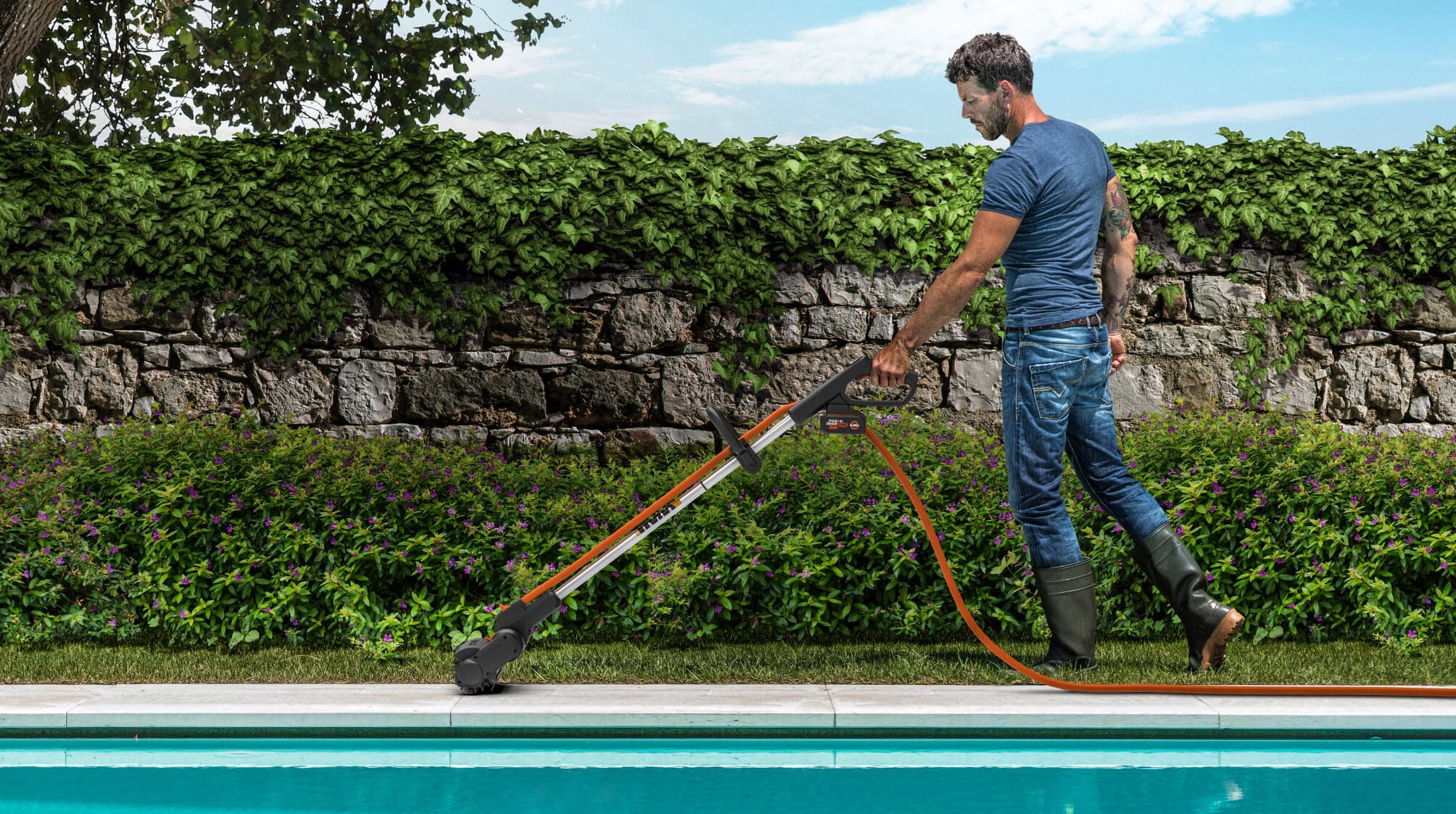 Outdoor floor cleaner
Hard surfaces outside get dirty
Stone, wood, tile, concrete and cobbled pavings are difficult to clean and require a lot of scrubbing. Not to mention removing weeds growing in the joints between tiles. Here's where a power brush comes in handy.
Cordless power brush
Stop scrubbing on your knees
The new Worx power brush makes scrubbing outdoor floors a breeze with easily interchangeable brushes specifically designed to clean different materials, including an attachment for uprooting weeds from joints. Connect the water hose to a tap, snap the PowerShare battery in, and you're ready to go.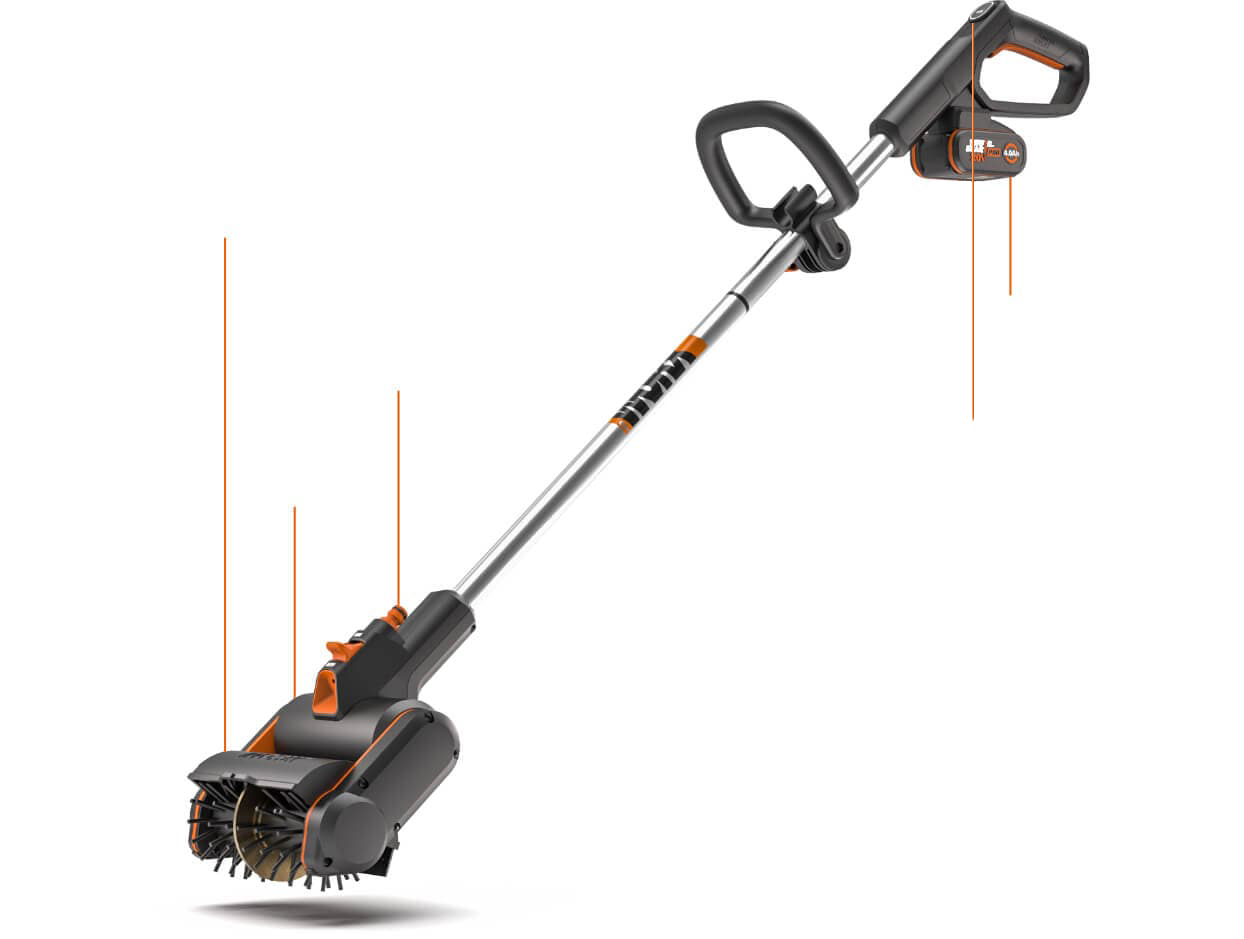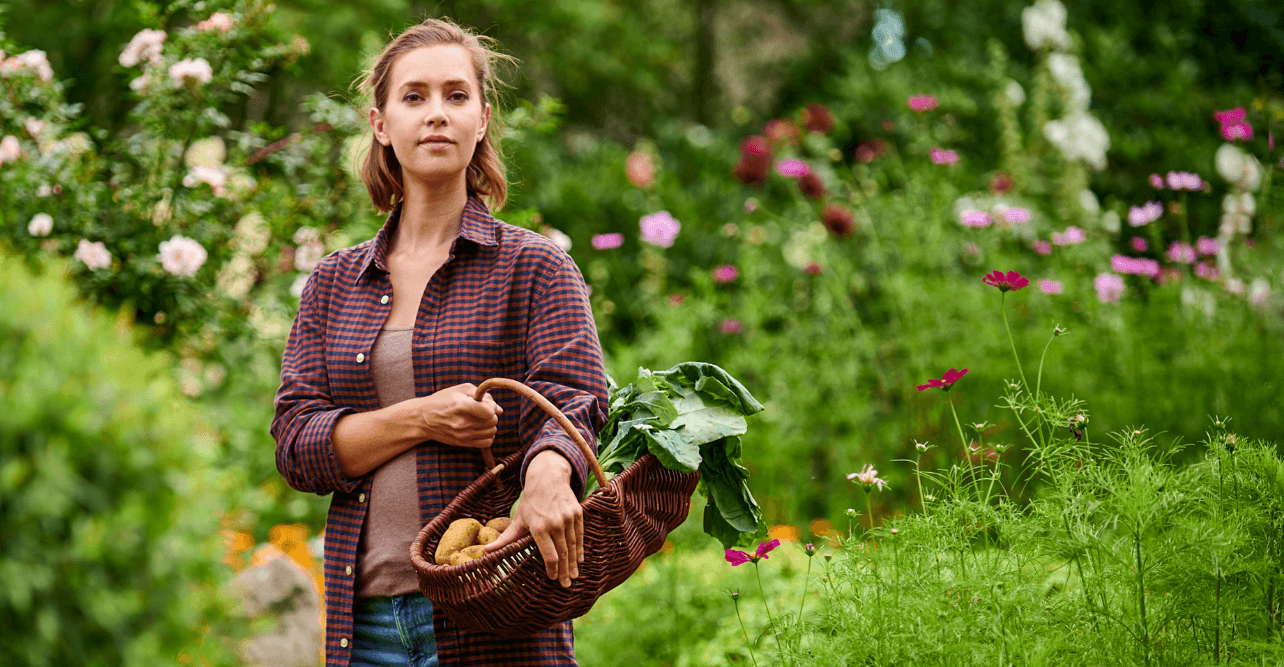 Att ta hand om trädgården innebär mycket mer än att bara hålla den snygg. Vi samarbetar med experter för att ge dig råd om hur du kan få ut det mesta av ditt utomhusområde. Håll ögonen öppna …
Upptäck mer